PPA Sway Path
Sway path has been identified as one of the most useful summary measures of postural sway.
In studies conducted by researchers at NeuRA, sway path has been found to be the best measure of postural sway for predicting falls in older people and other clinical groups at risk of falls.
PPA Sway Path automatically records and stores sway path as well as maximal anterior-posterior and lateral sway as measured by the PPA sway meter developed by Prof Stephen Lord. In doing so this app greatly enhances the usability and application of this low-tech sway measurement device.
PPA Sway Path has been developed based on extensive research and testing by Prof Stephen Lord and the Falls and Balance Research Group at NeuRA.
Available on the App Store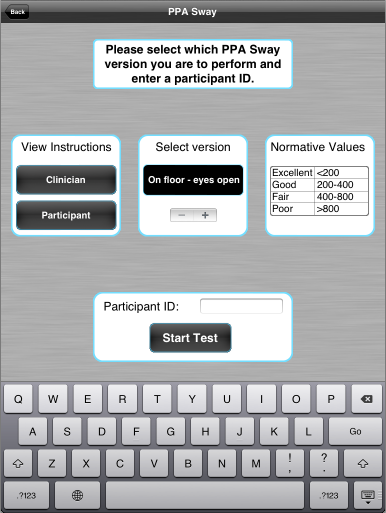 Support
If you encounter any issues or want to give us feedback for whatever reason please contact us at:
Phone: +61 9399 1000
Email: fallscreen@neura.edu.au
Privacy