Incidental and Planned Exercise Questionnaire Mobile Application
Incidental and Planned Exercise Questionnaire (IPEQ) is a cross-sectional survey for assessing low, basic and high-intensity physical activities. It is suitable for use in ageing research including falls prevention trials.
IPEQ consists of twelve validated multiple choice questions. The results are graphically displayed at the completion of the test and a historical record for the current participant can be shown via graphs. The results are be stored on the device and can be emailed to a clinician and synced with a computer via iTunes.
IPEQ can be used to test your own exercise and activity levels over time and used to test the activity levels of participants in a research or clinical setting.
Results are exported in the easy-to-read comma separated value format. The summary files are natively supported by Microsoft Excel, SPSS Matlab and many other data analysis programs.
IPEQ has been developed based on extensive research and testing by Dr Kim Delbaere and the Falls and Balance Research Group at NeuRA.
Available on the App Store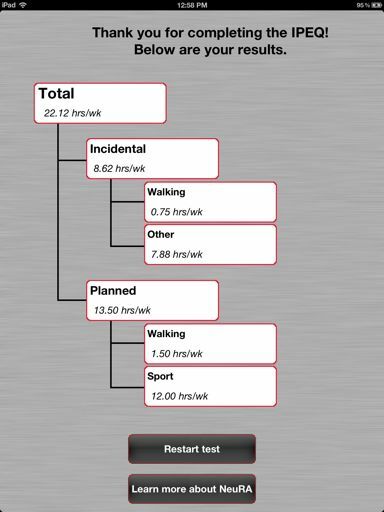 Support
If you encounter any issues or want to give us feedback for whatever reason please contact us at:
Phone: +61 9399 1000
Email: fallscreen@neura.edu.au
Privacy