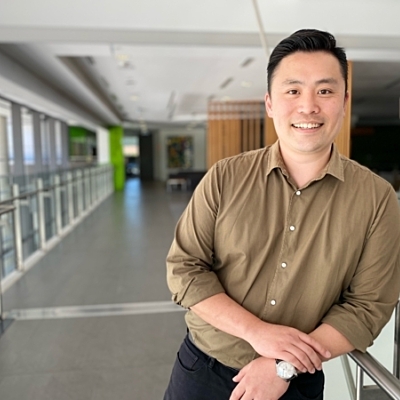 Terry Trinh
---
Current Appointments
Research Fellow
email hidden; JavaScript is required
Terry Trinh (Bsc, PhD) completed his doctoral training at NeuRA in 2017 and has since been utilizing various neurophysiological techniques to investigate disorders of the nervous system. Following his PhD, he was funded by the Motor Neurone Disease Research Institute of Australia grant to conduct transcranial magnetic stimulation studies at the Brain and Mind Centre to better understand cortical networks after muscle fatigue in people with Motor Neurone Disease. Following that, he was appointed Clinical Research Officer at the Prince Of Wales Clinical School as part of a team to manage and conduct clinical trials to identify markers of nerve damage following neurotoxic chemotherapy. Dr Trinh returns to NeuRA in 2022 as part of the Spinal Cord Injuries Research Centre (SCIRC) to investigate the effects of transcutaneous spinal cord stimulation on walking ability (eWALK trial), upper-limb function and respiratory function in people with chronic spinal cord injuries.
Terry's research projects and related news
Donate to us
Every dollar of community support enables our scientists to continue making life-changing discoveries that contribute to a brighter and healthier future.
---
Fundraise for us
Run, swim or bake your way to making a positive difference in the lives of people touched by brain and nervous system disorders.