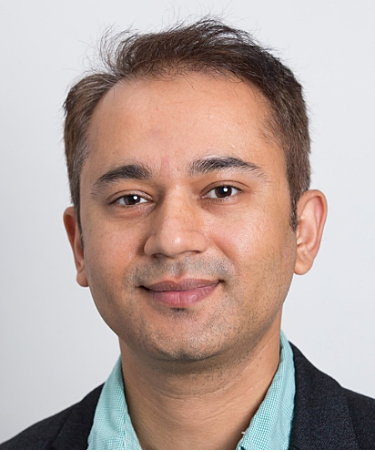 Dr
Saurab Sharma
---
Current Appointments
Postdoctoral Research Fellow
email hidden; JavaScript is required
Dr Saurab Sharma is a Postdoctoral Research Fellow at NeuRA and the UNSW School of Health Sciences. Saurab is supported by the International Association for the Study of Pain (IASP) John J. Bonica Fellowship (2020). Dr Sharma received the Exceptional Thesis Award for his PhD by the University of Otago (2020). Before joining a PhD in 2017, Saurab worked as an educator and musculoskeletal physiotherapist in Nepal for a decade. Saurab has won multiple awards including The Otago Most Promising Pain Research Award (2021) and The UNSW School of Health Sciences Early Career Researcher of the Year Award (2022).
Saurab has published >65 peer-reviewed publications in top general medical (BMJ) and specialist journals (e.g., PAIN, J Physiotherapy). He currently serves as Associate Editor for JOSPT and Physiotherapy. He is one of the Commissioners for the Lancet Commission on Osteoarthritis. Saurab is a Development Group Member for the World Health Organisation's initiative of developing rehabilitation intervention package for osteoarthritis. Saurab serves on 5 IASP committees and taskforces including Global Alliance of Partners for Pain Advocacy, Global Year Against Pain 2022 and 2023.
Saurab currently leads research theme on Equitable Pain Care – Globally (EQUIP-ALL) within the Centre for Pain IMPACT led by Professor James H. McAuley with an aim to improve pain care for underserved populations. Within this theme, Saurab currently chairs a Consortium for Low Back Pain in Low- and Middle-Income Countries (LMICs) which consists of 65 multidisciplinary stakeholders from 35 countries. Follow Saurab's work on Google Scholar.
---
Publications
Comparative effectiveness and safety of analgesic medicines for adults with acute non-specific low back pain: systematic review and network meta-analysis
View full journal-article on https://doi.org/10.1136/bmj-2022-072962
Evaluating Osteoarthritis Management Programs: outcome domain recommendations from the OARSI Joint Effort Initiative.
Context and priorities for health systems strengthening for pain and disability in low- and middle-income countries: a secondary qualitative study and content analysis of health policies
View full journal-article on https://doi.org/10.1093/heapol/czac061
Reliability, Validity, Responsiveness, and Minimum Important Change of the Stair Climb Test in Adults With Hip and Knee Osteoarthritis
View full journal-article on https://doi.org/10.1002/acr.24821
---
Saurab's research projects and related news
Donate to us
Every dollar of community support enables our scientists to continue making life-changing discoveries that contribute to a brighter and healthier future.
---
Fundraise for us
Run, swim or bake your way to making a positive difference in the lives of people touched by brain and nervous system disorders.